The years at TISS and beyond.....
Immediately after my MBBS, I got an opportunity to work for a British DFID sponsored project at the Government Medical College & Hospital, Surat. This was my first long stay outside MP (though I had by then visited almost all states of India, barring the East). And I did not know that hereafter I wasn't going back home, other than as a visitor! During the Surat project, I realized that my interests and expertise in healthcare, finance and IT was all converging towards Healthcare Management. And Tata Institute (TISS) at Mumbai, the numero uno centre for training in this discipline in India and beyond, was where I was destined to be next!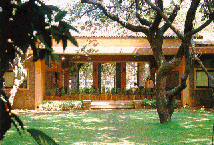 One of the many lush green locales @ TISS
Life @ TISS is what I will always cherish & remember as the "wonder years" of my life! TISS happened to be the first time I had stayed in a hostel, and I had plenty of apprehensions when I joined it. It wasn't many days, though, that the lush green campus, the lively, wonderful people around me and the opportunities for learning inside and outside of the lecture hall, had taken away all my apprehensions, and had made me a 'TISSian' forever….and I remain one even today. Academics was trail-blazing. I ended up scoring the highest amongst all the disciplines at TISS (not just mine) in each and every semester, also creating records of scores in field work, dissertation and overall scores. However, the contribution of academics in my pleasant feelings about TISS is only partial at best.
TISS helped me grow as a human, as a citizen, as a member of society. It helped me understand myself, understand group dynamics, understand the complexities of inter-personal interactions. Contributing to this was the very cosmopolitan nature of the campus, its heterogeneity, the sheer variety of personalities…coupled with my extroversion. It also increased my comprehension and respect for other cultures and traditions….so it was at TISS that I celebrated, organized and thoroughly enjoyed my first Christmas Mass, my first Durga Puja, my first Onam…and at the same time, had my most memorable Lohri!
Alongside all this learning-for-life at TISS, clearing the UPSC's Civil Services exam just happened. I was allotted ICAS, and after some deliberations over whether to stick to the private sector, I joined the service by reporting at the highly prestigious Lal Bahadur Shastri National Academy of Administration (LBSNAA) at Mussoorie, in March 2001, which is the training institution for all Group A Civil Service officers.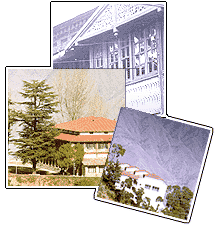 LBSNAA- In the lap of nature...
Life at LBSNAA was hectic, no doubt. The day begun at 5 am (and God, that used to be cooooooooold!!!), and we reported for Physical Training at 6 am. This was followed by breakfast and then training sessions and lectures, and finally, by time for co-curricular activities. There were also loads of treks, excursions (to National Parks, Parasailing, River rafting and the like), a week long stay at a remote village in Andhra, and a 10 days trek to the Garhwal Himalayas- the highest point (literally!!! It was 14000 feet above sea level at our highest climb) of a LBSNAAites stay!
My favourite evening activity was Horse-riding, Although I had never sat on a horse before I joined at Mussoorie, by June 2001, I had won the gold medal in horse riding!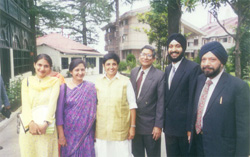 A beaming Nagpal family with Dr Kiran Bedi, just after the prize sweep...
The last day at LBSNAA was also my most memorable, the grand culmination of 15 weeks of joy. The legendary Kiran Bedi chaired the valedictory session and also gave away the prizes, and, to my sheer delight, I found that I had sweeped the prize distribution function with well over a dozen Gold medals and First prizes. Above all, to my utter disbelief, I realized that I had achieved a unique distinction, of having secured all the three prestigious prizes at this apex academy- The Best Academic Performance, Director's Medal for the Best All-Rounder Officer Trainee, and also the Espirit de Corps award (the last mentioned being an award based on voting by all fellow officer-trainees from all services for the person who contributed the maximum to the development of team spirit in the batch).
Life, training and learning still goes on, as I post this on my website. Events keep happening, memories abound. But till I have this autobiographical instinct again and update this page yet again, do keep watching this space! Ciao :-)
For selected memories from my 2001 Photo Album, please click here...