2002: Memorable Moments
in Freeze

Frames...
Hello and Welcome to the photo album, depicting some of the memorable moments in 2002!
In more ways than one, 2002 was the year of NIFM, the National Institute of Financial Management... where I was sent by our Department for an MBA Finance... but NIFM wasn't just about Money Matters, as the snapshots below will reveal....so read on!!

Nope, this wasn't an NIFM snapshot (though the lush green campus does have its due numbers of creepers and crawlers... but I never came across one...).
The bar probably has something to do with my surname, or maybe its just there to make the page look good - take your pick :-)
***************
This is a still from the NIFM annual day, in October 2002. Well, organizing and anchoring programmes was something I did so much of, I am pretty sure all at NIFM must be tired of seeing the same face on the dais every month (or maybe even more frequently!!). From Filmi Antakshari's to Formal Annual Days, from colourful Cultural Evenings to colossal sports weeks, yours truly seemed to be everywhere!
***************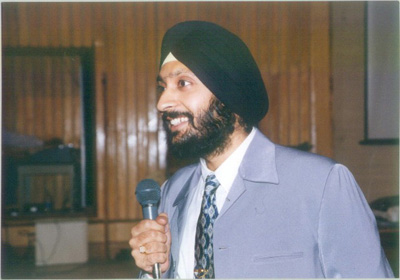 And before you too get tired of these anchoring close-ups, here's another... but hey no, this ain't anchoring! This is a snapshot from my first song on stage, a duet (Achha ji mein haari, chalo maan jao na...). Even I could not believe I could ever sing... and maybe nor did those who heard me attempt that... ;-)
***************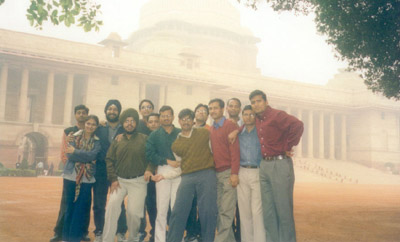 Hmm.. can you spot me there? This is a group pic, soon after the visit to the Mughal Garden, the garden of the President of India. This was a special trip organized by NIFM, and well, can't show you any pix from inside the spectacular Mughal Gardens as cameras could not be taken inside :-( So I guess this souvenir snapshot, with the Rashtrapati Bhavan in the backdrop, is what you will have to be content with...
***************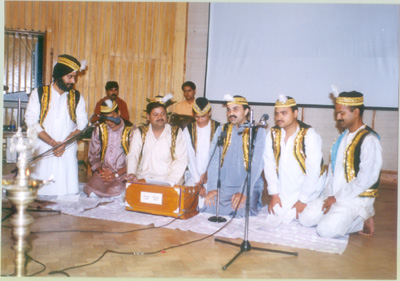 Talking of colourful cultural programs, here's one! Somil, the Qawwal.. howzzaattt?
***************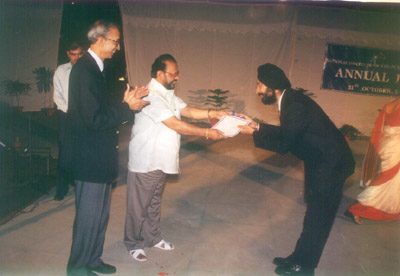 A very special moment, this. Once again, history repeated itself... it was an encore of the Mussoorie days, with this First prize in All Round performance (Academic plus Co-curricular) at NIFM too. The Hon'ble Union Minister of state for Finance, Shri Anandrao Adsul, conferred this prize at the Annual Day of NIFM. Our director, Shri A. Prasad, shared the moment of joy...
***************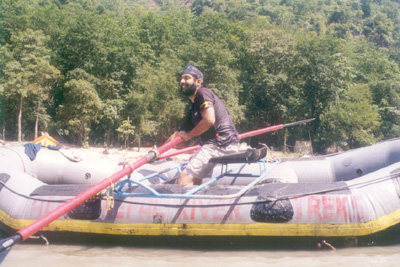 Come September, and we were off to the bank of the river Ganges, off Rishikesh, for a never before experience! River Rafting, Rappeling, Rock Climbing, Kayaking, Campfires, Trekking, Body Surfing, Water Games, Raft building... each of these is awesome in itself, and when all of these are part of one great trip, its beyond words! We had a whale of a time, and these pics bear testimony to that!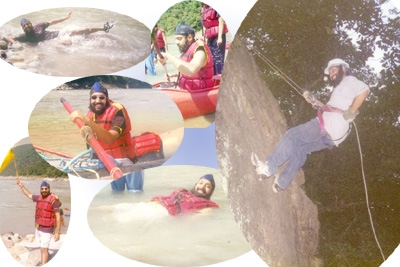 And well... that's it for now! :-)
***************
End of Photo Album
(c) Dr Somil Nagpal, 2003.